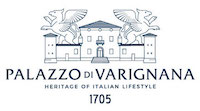 The most recent to become part of Palazzo di Varignana's villa collection, Rio Rosso Country Villa is completely rustic with its stone bare walls and we love it. Like La Pergola, Rio Rosso doesn't have its own private swimming pool (it has a hot tub instead) but it is surrounded by 33,000 sqm of vegetable garden. The villa is independent from the hotel but on the same grounds so you can access all of the hotel's amenities.
The villa has four elegant bedrooms with wooden beams on the ceiling and stone walls, 2 of which have a private living room and one with a dedicated kitchen, while on the ground floor is a large living area for you to enjoy. During the summer months, you can't beat sitting out on the patio and enjoying long lazy lunches.
Rio Rosso Country Villa sleeps as total of 8 people.