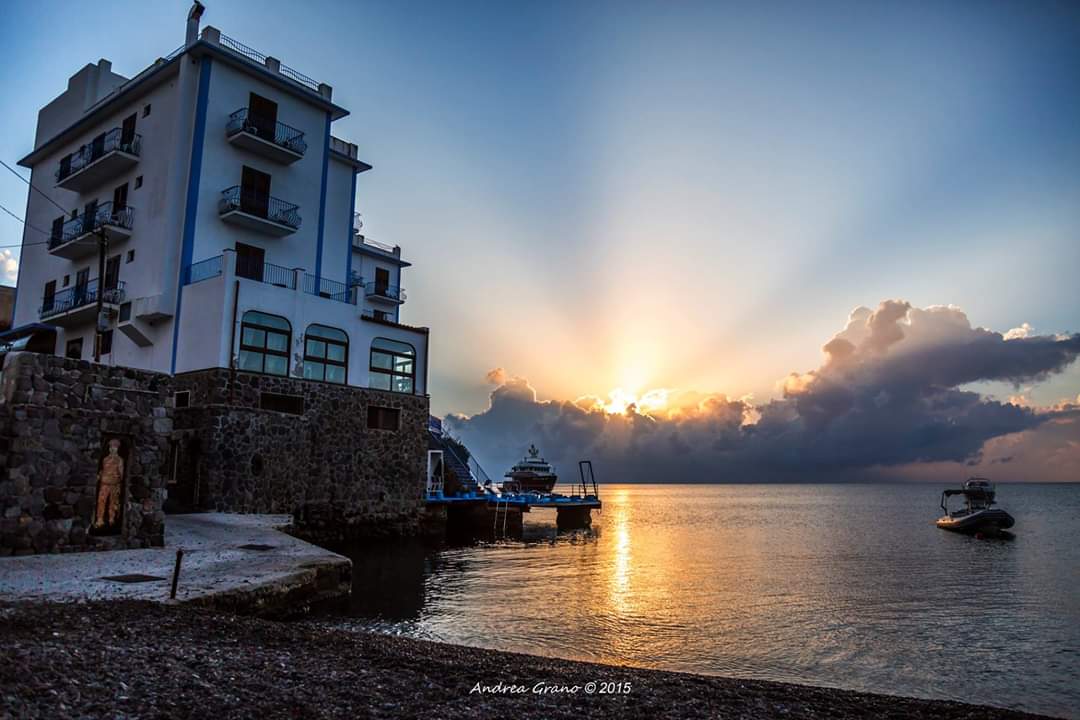 Lipari is the largest of the seven volcanic Aeolian archipelagos (Vulcano, Salina, Panarea, Stromboli, Filicudi and Alicudi are the remaining six) all located in the Tyrrhenian Sea, north east of Sicily. Each island brings its own personality and mythological history to the charming and naturally wild cluster of islands. But as the title suggests, our focus today is on Lipari which is the only island that has life 365 days of the year. Squeezed between Salina and Vulcano, the surrounding sea of Lipari is that achingly beautiful turquoise, a colour which instantly sparks that feeling of paradise and total relaxion. Apart from its obvious beauty (which believe me was not overlooked in the slightest) Lipari has a fascinating and volatile history. Named after Liparus father-in-law to Aeolus, God of wind, you can see still see fragments of its impressive history dotted around the island which helped brand the archipelagos as part of the UNESCO world heritage site.
We thought it appropriate to divide our time on the island between the land and the sea. We headed to the archaeological museum which displays a monumental array of impressive collections from the Neolithic, Bronze and Greco-Roman periods. Highlights include the world's largest collection of miniature Greek theatrical masks. Carrying on the theme, we headed (on foot) to the island's Castello, formally a Greek acropolis. Beautiful in itself, the structure has single handedly seen the overlap of Norman, Greek and Spanish influences.
After our educational morning we made a stop for lunch at Mancia e Fui for arancini and local rosticceria Siciliana. We were told by locals it's the place to go and it didn't disappoint. But from all the joys that one gets from the land, the real pleasure was our chance to cultivate the island by boat and explore the jagged and untamed coastline. If, however you prefer to have a lazy afternoon, the whitewashed La Spiaggia Bianca beach is absolutely stunning, and the water a riparian blue.
Where to stay: When going to Lipari, your first thought should be to book Hotel Rocce Azzurre which is just a stones throw away from Marina Piccola. The hotel is perfectly suspended in the rocks with an unbeatable view. Book a sea view room so you can watch the cool blue tide of the Mediterranean sea wash right into your bedrooms to give you that extra dose of sensuality. In the morning you can enjoy a coffee and cornetto on the terrace overlooking the sea. Actually, we suggest booking half board for your entire stay. The menu changes daily and chef Orazio Di Stefano creates suburb local and traditional cuisine which makes eating out seem completely redundant. The entire team in fact are wonderfully warm and friendly and ensure your time on the island is a memorable one. The hotel also has a beauty and wellness centre with the complete works located right on the top floor. But I have to say the real joy of this hotel is watching the sunset from your balcony. The smoky hues of orange and golden light mingling with the puff of clouds which slowly sinks into the sea, gives you that feeling of pure tranquillity. There is no doubt that Rocce Azzurre is a truly magical place.
Where to eat: We suggest venturing out from the hotel only once during your time at Rocce Azzurre and when you do, a favourite is L'angolo del Pesce. Stick to whatever the chef recommends as it won't disappoint. If you are in search for something more elegant then head to Trattoria del Vicolo. The chef Giuseppe uniquely combines tradition and innovation using locally sourced ingredients. For a classic pizzeria, Pescecane will do just the trick.
Where to go for an Aperitivo or coffee: Cafe La Precchia is the one to enjoy a good old fashioned negroni whilst sitting outside chatting with locals. For typical pastries and coffee, we suggest Bar Subba which is just a ten-minute stroll from Hotel Rocce Azzurre.
Where to go for an ice cream and granita: For the very best granita, head to Avant- Garde cafe.
How to get there: Regular flights operate from London Gatwick and Luton directly to Catania. Flights are also available from Bristol, Edinburgh and Manchester a few days per week. You can catch the bus from Catania airport to Milazzo port with Giuntabus or Sais, prices cost 20€ one way including baggage. Book your hydrofoil ticket through Liberty Lines and we suggest doing this a few weeks before your arrival. The hotel will arrange your pick-up from the local port free of charge. Alternatively, the hotel can arrange a private transfer from Catania airport. Prices start from 80€ one way and include your hydrofoil ticket, tourist tax in Lipari, baggage and your pick-up from the local port.
Hotel Rocce Azzurre is offering a 7-night stay for 630€ per person. Rate includes a sea view room with balcony and half board, return transfers by car to and from Catania airport and Milazzo, return hydrofoil ticket, return luggage ticket, entry ticket to Lipari and return transfer to and from Lipari port and hotel. Offer is valid from 1-30 September 2020 and is subject to availability.
Hotel Rocce Azzurre, Lipari Tel. +39 090 9813248
www.hotelrocceazzurre.it
https://www.tripdigest.com/wp-content/uploads/2020/08/WhatsApp-Image-2020-08-03-at-15.10.04.jpeg
720
1080
katia
https://www.tripdigest.com/wp-content/uploads/2020/07/Tripdigest-logo_Logo-300x118.png
katia
2020-08-04 10:55:23
2020-08-04 15:53:08
Our Guide to Lipari; Italy's Answer to off the Beaten Track