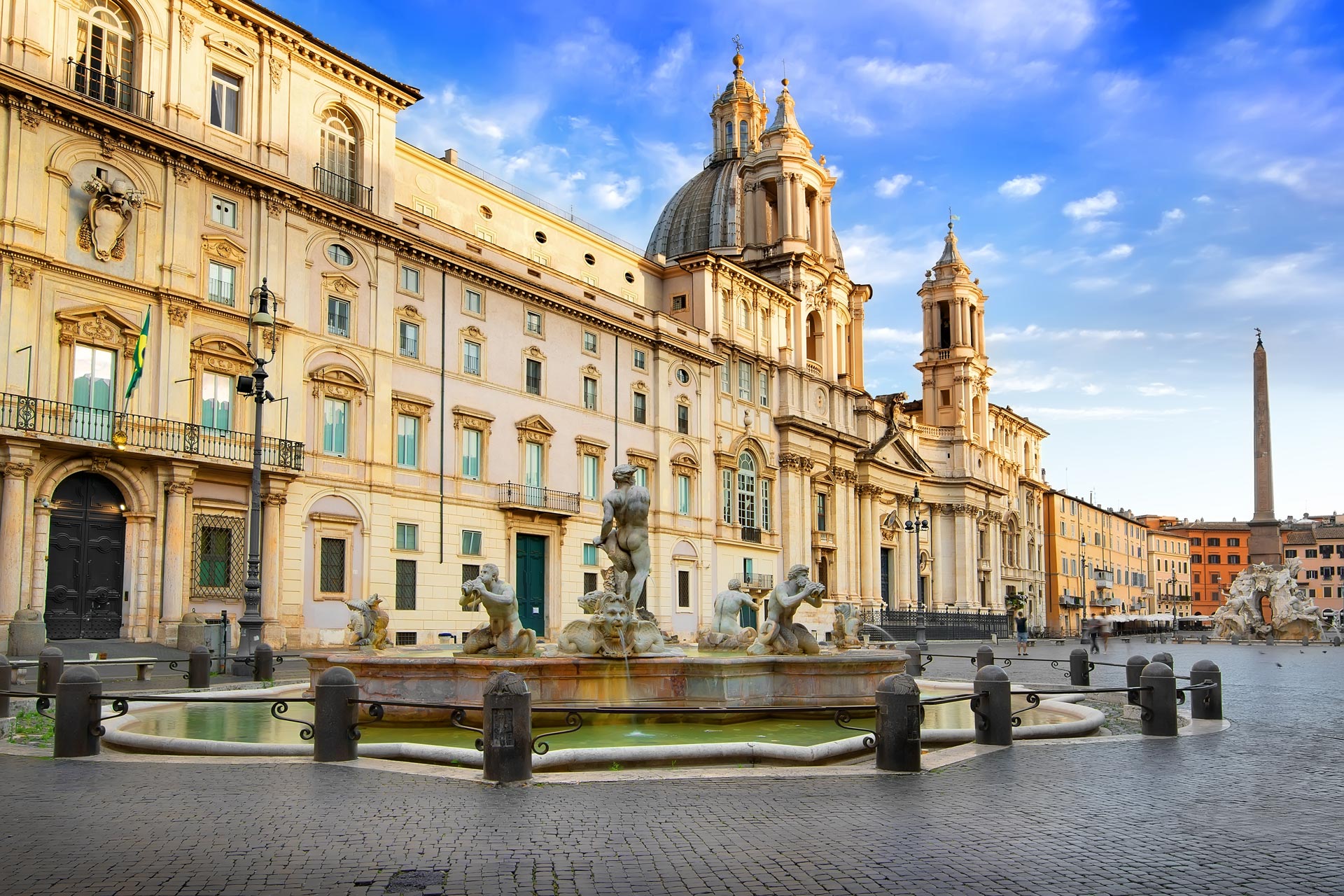 Rome is complicated. There are so many artistic masterpieces that it can sometimes leave you with an aesthetic overload. Every street corner depicts an impressive moment in history taking you on a journey from antiquity to the high Renaissance to World War II and the end of Fascism. The historical landmarks such as the Colosseum, Forum and Pantheon mark important pillars in Rome's ancient history whilst the Vatican and St. Peter's Basilica remind you of Rome's Catholic dominance during the Renaissance. In short, you can spend a lifetime studying historic Emperors, authoritative Popes, revolutionary artists and ambitious architects and never quite get to the bottom of it. That is what is so great about Rome, you can visit and re-visit and always feel like there is something new to be discovered or re- discovered. Take for example the Baroque statue on Piazza Navona by Gianlorenzo Bernini.
On a recent visit, I leant that the Fontana dei Quattro Fiumi is saturated with political allegory. Each God depicts the four major continents of the world (at the time of creation) and also the four major rivers: Ganges, Danube, Plate and Nile. The river God that personifies the Nile is the only one to hide its face symbolising the river's unknown source whilst the coins under the Rio de la Plata symbolises the richness of the recently discovered new world. Whilst I could go on, my point is that there is a reason why Rome has fascinated people for centuries. Alas how could we forget the major role Rome played in Federico Fellini's masterpiece La Dolce Vita and latterly Paolo Sorrentino's La Grande Bellezza which achingly represents the hedonistic beauty of 60's Rome. Rome's sensual richness oozes out of its pours and perhaps none more so than its food.
Where to eat: Pierluigi near Campo de' Fiori is the best for fish and one of the best restaurants in Rome. During the summer, try and book a table outside and expect to dine alongside Rome's high society. If you want to try something authentically Roman (when in Rome and all) head to the trendy neighbourhood of Trastevere to Da Enzo al 29 and try the Rigatoni all'Amatriciana- it's superb. Another typical Roman restaurant is Hosteria Grappolo d'Oro located just off Piazza Campo de' Fiori. Here you can try the Roman Path Menu for 32€ per person.
Where to go for a gelato and coffee: Gelateria Giolitti is Rome's most famous and one of the oldest gelateria. Watch out as the romans love to pour whipped cream on an already overflowing cone. For one of the best coffees in Rome don't forget to go to Caffè Sant'Eustachio, located in the homonymous square. A unique experience for those who love coffee.
Where to go for an Aperitivo: If you're feeling sophisticated (which you should naturally in Rome) head to Rocco Forte's newly opened Hotel de la Ville on top of the Spanish Steps for a Negroni on the terrace overlooking the impressive skyline. If you're looking for something trendier, go to Piazza di Pietra near the Pantheon to Salotto 42, or just wonder around Trastevere where there is a good bar on every street corner.
Where to stay: I recommend the structures of the Minerva Collection. Located in the historic centre, you can reach all the main tourist sites in 5 minutes. The rooms are spacious with all comforts you need such as a Nespresso machine with complimentary capsules, free tea and water in the minibar and a bathrobe and slippers for the night. Buffet breakfast is served in the morning, or you can choose to have it in your room for that added bit of luxury.
Direct flights operate 7 days per week from London Gatwick, Heathrow and City to Rome Fiumicino. From the airport it's approximately a 45-minute drive to the city centre. Taxis have a fixed price of  48€ or you can organise a private transfer with the hotel for the same price.
https://www.tripdigest.com/wp-content/uploads/2020/07/pamphili-palace-and-fountain-PHVHKB6.jpg
1280
1920
design
https://www.tripdigest.com/wp-content/uploads/2020/07/Tripdigest-logo_Logo-300x118.png
design
2020-07-16 15:14:35
2020-08-11 15:14:55
Getting to gripes with Rome